2017香港電單車節將於11月5日中環龍和道舉行 - 活動細則及參展報名(截止日期為6月30日)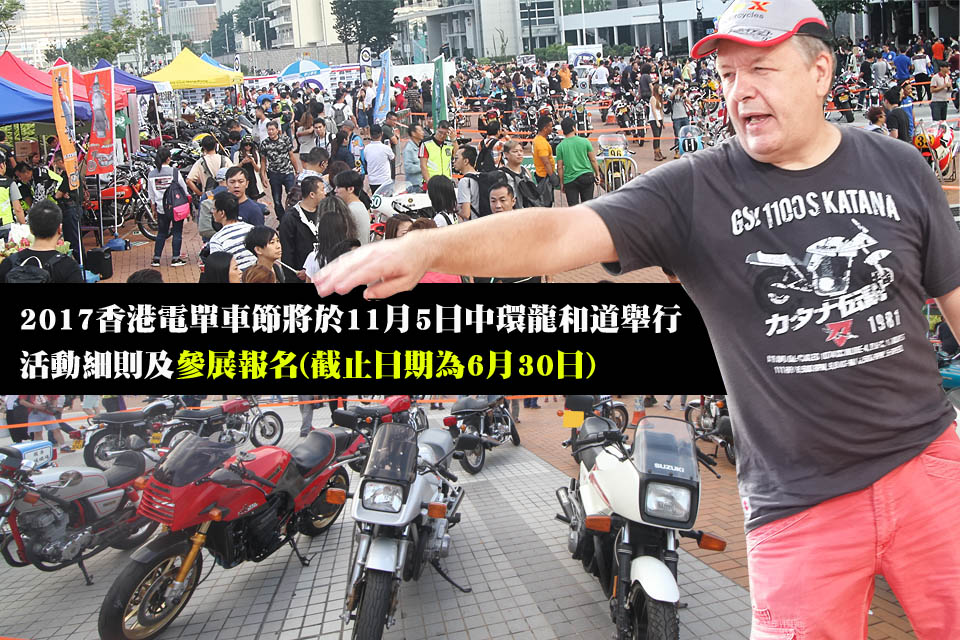 2017香港電單車節將於11月5日中環龍和道舉行 - 活動細則及參展報名(截止日期為6月30日)

"MOTORCYCLE SHOW 2017"
"2017香港電單車節"
Edinburgh Place, Central, Hong Kong
香港中環龍和道愛丁堡廣場
Sunday, 5th November, 2017 – 7.00am to 6.30pm
2017年11月5日,星期日,早上7時至下午6時30分
Dear Clubs, Shops, Bikers, and Friends,
親愛的車會、商店、電單車愛好者及各位朋友,
The "Motorcycle Show" is THE day for Hong Kong Bikers to get together to celebrate their love for 2-wheeled, motorized propulsion … whether that be Sportsbikes, Classics, Cruisers, Scooters, Off-Road, or all the variations in-between!
「香港電單車節」 是一個讓各電單車愛好者聚集一起,展示愛驅的活動。無論你擁有Sportsbikes 超級跑車, Classics經典珍藏車, Cruisers巡航車, Scooters 綿羊, Off-Road 越野車, 或其他不同類別的電單車,都可以在這裡展出,與大家分享。
This year is our 12th Anniversary Show!!!
今年已是 第12 屆!!!
1. The Event
As in the previous Shows, this Show aims to be a mix of every aspect of Motorcycling in Hong Kong from 'Harley Hogs' to Moto-Crossers, from Police Bikes to Superbikes! Everything you need to know about Biking in Hong Kong will be shown at the "Motorcycle Show". This is a great opportunity for Bike Shops and Clubs to show to the HK Community what they have and promote Biking! The Government is VERY strict that this is an Exhibition. Government will allow 'giveaways' such as Stickers, fliers, key-rings etc to advertise a Product or Company but no NO "commercial activity" is permitted in this Show on Government Land!
Again this year we hope the Police will display their new motorcycles, as this is a crowd favorite. We will also invite FSD, AMS, and CAS to display their motorcycles.
活動簡介
一如既往,舉辦電單車節的目的是想將香港不同年代、不同款式的電單車展出,由 'Harley Hogs' 至 Moto-Crossers越野車, 由警察自行車至超級電單車等,是一個難得的平台向公眾展示你的車會及商店。一切與電單車有關的資訊都可以在「香港電單車節」內看到,只供展覽,不可銷售及作任何商業用途。
作為其中一個焦點,我們誠邀香港各紀律部隊,如警察、消防處、醫療輔助隊及民眾安全服務隊參與展出。
2. The Show Organizers – 'Classic Auto-cycle Museum' (CAM)
CAM was set up in 2003 to preserve and promote the passion of cars and motorcycles in Hong Kong. This Show is organized by CAM who get the Lease from Government. Any instructions given by the Organizer, Ian Foster or the CAM volunteers (in yellow-vests) must be adhered to immediately. Failure to do so will result in a HK$3,000 Fine and ban from the following years' Shows.
主辦單位 —「香港運輸工具歷史文化博物館」 (簡稱CAM)
CAM 於2003年成立, 由主辦人Ian Foster 帶領一班義工團隊負責整個活動流程,培育及推廣汽車及電單車愛好者。各參展商或車會必需遵守主辦單位訂立的規則,違例者將罰款港幣3,000或被終止這次及以後參展機會。若有任何爭議,主辦單位擁有最終決定權。
3. Show Location
The Show will be held in front of the Central Post Office at the Lung Wo Road car-park, Central. The Site includes the car-park area, the pedestrian area linking to IFC, and the Edinburgh Place in front of City Hall.
地點
活動範圍包括停車場、連接國際金融中心的行人專用區及香港大會堂對外的愛丁堡廣場。車輛入口位於龍和道及舊天星碼頭停車場旁的愛丁堡廣場。
4. The Show Layout
This year's event will be similar to the past 'Motorcycle Shows' with a minimum 4.5m wide pedestrian Promenade will be maintained along the Lung Wo car-park, and the pedestrian connection (on North boundary of the Central Post Office) for Emergency Vehicles (FSD, Ambulance, Police, etc) to access freely. On North and South sides of the Promenade Biker Clubs and Shops will have their Display-areas shown on the 'Show Map' prepared by CAM.
展覽範圍
佔地與往年一樣,最少約4.5米寛的行人長廊沿龍和停車場伸展,一個為緊急車輛(如食物環境衛生署、救護車、警車等)出入的行人接駁區(中央郵政局北面)。南北雙面為參展區,CAM會將各商店及車會確實位置顯示在參展地圖上。
5. COSTS of Show
Access to the Show is offered FREE to all Club Members, Shops Customers, and the General Public. Clubs will participate in the Show for FREE whereas those participating Shops will contribute $1,000/space to the Costs of the Show (for example Government Permits, Government Insurance, Barriers, Prizes, Signage, etc).
To reserve your Exhibit space, please send the 'REPLY SLIP' with Cheque payable to Ian Foster by post to "Mr. Ian Foster, 7J Sheung Tsuen, Pat Heung, NTs, Hong Kong".
Shops with no 'Company Chop' on reply slip and no Cheque …
NO Space will be reserved!
If your Club/Shop reserves a space, and for any reason does not appear on Show-day (without 2 weeks prior Notice), your Club/Shop will be banned from participating in future Shows.
參展費用
「香港電單車節」對外開放,費用全免。車會亦可免費參加,但商店 / 公司名義上必須贊助港幣1,000作是此活動的基本營運開資(如政府牌費、保險費、租借政府物資、滅火器、其他雜費等)。 再一次重申,由於場地有限,先到先得。報名參加的 "商店/公司" 必須填妥回條,蓋章並連同劃線支票(註明支付 「Ian Foster」)並郵寄到:7J Sheung Tsuen, Pat Heung, NTs, Hong Kong, Mr. Ian Foster 收。
"沒有公司蓋章" 及 "支票" 的商店,申請將不受理。
若已報名的車會/商店未能出席,請於活動前至少兩個星期前以書面通知,否則將會列入黑名單,以後亦不被獲准申請。
6. Entry time and others
Department will be allowed to enter after 7.00am. The Show officially commences at 10.00am. This area is zoned as a "Pedestrian Zone" on Sundays; Police have 'Zero Tolerance' for vehicles moving through pedestrians. NO vehicle movements are permitted by Govt at the Show, all Bikes must be PUSHED when entering/leaving the Show. Failure to respect these rules will result in you being fined HK$3,000 and banned from future Shows.
The car-park road will be closed-off to Public Traffic from 7.00am-9:00pm. Vehicle entrance to the Show is from Lung Wo Road, and from Edinburgh Place Road beside the old Star Ferry car-park. ONLY Lorries / Vans with a valid "Closed Road Permit" from Transport Department are allowed to access Lung Wo Road on Show-day. It will be the Club/Shop's responsibility to monitor their lorry movement. You must have an authorized-person from your Shop/Club walking in front of the lorry warning pedestrians of approaching vehicle. Vehicles are allowed to move at max 5km/hr. Non-compliance with any of the above will be fined HK$3,000.
進場時間及細則
參展車輛可於當日早上7時進入,活動於上午10時正式開始。晚上9時半前清場。政府已發出指引,由於場地屬行人專用區,所有電單車於當日(包括進場、展覽期間及完場後)必須由人手推動,禁止在這範圍內發動引擎,否則會被檢控及罰款港幣3,000,同時亦禁止參加。
停車場路將於當日早上7時至晚上9時半封閉,所有經過龍和道進出會場的重型或輕型貨車,必須持有運輸署簽發有效禁區紙才可進入。參展車會/商店有責任監測車輛。所有車輛最多只可以時速 5km/hr 行駛,違例者將被罰款港幣3,000。
7. Exhibit Layouts
Exhibitors will be allocated a display area, as in previous years. Please advise which ZONE you prefer in the Reply Slip. The space will be allocated before the Show on a "first come, first served" basis. Final decision will be made by the Organizer. Exhibitors are free to layout their own space. However, the Government specifies that no "structures" are permitted to be erected. Each Exhibitor is responsible to clean their area and surrounding public space after the Show (before 9.30pm), failure to do so will be fined $3,000 by CAM, this clause will be strictly enforced.
攤位安排及佈置
各參展車會或商店請在回條上填寫你的意願區域,先到先得。我們亦會因應實際環境盡量配合,但最終安排由主辦方決定,不得異議。除了結構性的搭建外,參展商可於設定範圍內任意佈置攤位。完場時,參展商必需負責清理攤位內所有垃圾。違例者將罰款港幣3,000。
8. 'Concours d'Elegance
The annual Competition is to acknowledge the 'Best Bikes' in Hong Kong. Participants wishing to have their Bikes considered for the following 9 awards are required to collect a numbered and colored Sticker from the Organizer at CAM's Booth.
Awards include:
1. Best Classic Bike
2. Best Custom Special – USA
3. Best Custom Special – Others
4. Best Superbike
5. Best Scooter – European
6. Best Scooter – Others
7. Best Big Scooter (400cc or above)
8. Best Club Stand
9. Bike of Show
The Judging Panel is made up of the Chairmen from all the Bike Clubs participating at the Show.
獎項
每年我們都會頒發9個「最佳」獎項,評審團需在各參展車會的電單車中挑選心目中的各項得主,投選表格將在車節當日派發給各車會會長。
獎項為:
1. 最佳經典珍藏電單車 Best Classic Bike
2. 最佳改裝電單車— 美國 Best Custom Special – USA
3. 最佳改裝電單車— 其他 Best Custom Special – Others
4. 最佳超級跑車 Best Superbike
5. 最佳綿羊— 歐洲 Best Scooter – European
6. 最佳綿羊— 其他 Best Scooter – Others
7. 最佳400cc或以上電單車 Best Big Scooter (400cc or above)
8. 最佳車會佈置 Best Club Stand
9. 全場最佳電單車 Bike of Show
評審團由各參展車會主席擔任。
車會主席需於當日下午3時前將此表格交回主辦方 CAM攤位。
9. Liabilities
"The Classic Auto-cycle Museum" (CAM) is a non-profit-making Enthusiasts Club and is not liable for any damage or loss to you or your property. All exhibitors, shops, clubs, visitors and viewers will participate in this Show at their own risk.
責任
CAM" 是一間非牟利機構,沒有承擔任何人、車、財物損失的責任。所有參加者必
需自行承擔風險及購買個人賠償責任保險。
10. Deadline
Submission deadline is 30th June, 2017.
截止日期
2017年6月30日
11. Advertising and Promotion
CAM appreciates the assistance of HK's Biker websites and magazines. We appreciate your help in informing HK's Bikers about the Show. CAM requests the Shops to put a small Poster in their windows to advertise the Show. We also need to increase our Marketing to GuangDong Province, Taiwan, and S.E.Asia, so please use whatever contacts you have to spread the word.
市場推廣
CAM 感謝各位的支持及參與,令每年的「香港電單車節」成功進行,觀看人次也不斷上升。在此希望各電單車傳媒在網站、雜誌等大力宣傳這個活動;商店可張貼有關宣傳海報。請大家將這一年一度的電單車活動宣揚出去,鼓勵更多香港、中國各省、台灣、日本及亞洲各地的電單車迷參與及認識我們。
12. Co-ordination Meeting
A 'Co-ordination Meeting' will be held in August 2017 (exact date to be confirmed) at 7.00pm at HKAA headquarters in Yau Ma Tei. All Clubs/Shops who will exhibit in the show have to send a representative to attend this meeting to clarify and resolve issues that you might have. Exhibitors will also have the opportunity to propose ideas, ask questions and discuss about the Show.
Non-compliance = Fine
Money collected from any Fines imposed on Exhibitors will then be donated to the 'Po Leung Kuk Charity' in Causeway Bay by CAM.
協調會議
第一次協調會議將於 2017年8月(確實日期待定)下午7時油麻地香港汽車會 (HKAA) 總部舉行。請各位參展車會/商店必需派代表出席這次會議。
不遵守條例者 = 罰款
所有罰款收益將撥捐「保良局」作慈善用途。
Updated details will be announced via Facebook www.facebook.com/groups/266557333367383/
最新資訊將於www.facebook.com/groups/266557333367383/ 公佈。
Should you have any queries, please contact Ian Foster at ian@netvigator.com.
若有任何問題,請與Ian Foster (ian@netvigator.com) 聯絡。
Best Regards,
Ian Foster – Architect RIBA
Classic Auto-cycle Museum Club – Chairman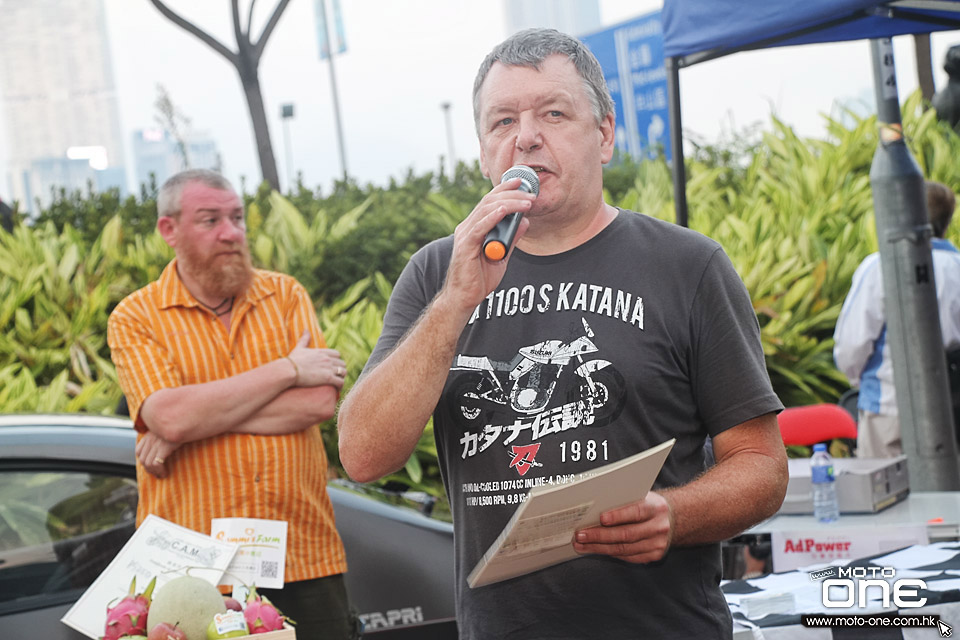 <<< REPLY SLIP 回條 >>>
**************************************
"Motorcycle Show 2017" 香港電單車節2017
Dear CAM,
This is to confirm that we, as named in # 1 below, wish to reserve a space at the "Motorcycle Show 2017" on Sunday 5th November, 2017 at Lung Wo Road, Central between 7.00am and 6.30pm. We understand that Bike Club Stands will be FREE as usual, Shop/Distributor Stands will have a nominal contribution (HK$1,000.00) to help cover the Costs of the Show. We agree to follow all Show Rules and Instructions from the CAM Organisers as shown in the 'Show Introduction Letter' dated 10th June, 2017. We understand and accept that failure to adhere to the Rules and Regulations will result in a HK$3,000 Fine. We agree that all participants who take part in the Show do so at their own risk, and covered by their own Indemnity Insurance.
本 車會 / 公司* (刪除不適用的) 確定參加2017年11月5日早上7時至下午6時30分在中環龍和道舉行的"第12屆香港電單車節"。我們明白,參展車會費用全免,公司則在名義上必須贊助港幣1,000作為是此活動的營運費用。我們同意並遵守由主辦方在2017年6月10日所訂立的條款及細則,違例者將罰款港幣3,000。參加者需自己承擔風險及購買個人賠償責任保險。
1) Name of Club or Shop 車會或公司名稱: ........................................................................................ 口Club 車會 口Shop 公司 (please  as appropriate 請選擇)
2) Contact Person's name 聯絡人: .........................................................................................................
3) Mobile Tel# 聯絡電話: ……….................................................. (English Speaking please 能說英語)
4) Email 電郵: .............................................................................................................
5) Preferred ZONE for your Stand 意願區域* ………..…………………....................................................
(*Organizer reserves the right for the final decision最終安排由大會決定)
6) Signature/Chop簽署 (車會) / 蓋印 (公司**): …….……………………………..……………………….
( **公司必須加蓋印章 )
Notes to Applicants 備註:
As space is limited, it will be allocated on a "first come, first served" basis. To reserve your Exhibit space at the Show, please complete this 'REPLY SLIP' and submit together with a Cheque (made payable to 'Ian Foster') by Post to Mr. Ian Foster – CAM Show, at 7J Sheung Tsuen, Pat Heung, NTs, Hong Kong.
"No Pay, No Play!"
由於場地有限,"先到先得"。公司必須填妥回條,蓋章並連同劃線支票(註明支付 「Ian Foster」)郵寄到7J Sheung Tsuen, Pat Heung, NTs, Hong Kong, Mr. Ian Foster 收,以確認申請。沒有蓋章及支票的將不受理。
All participants who take part in the Show do so at their own risk. "CAM" is a non-profit making Social Club not responsible or liable for loss or damage to you, your vehicles, or your property.
"CAM" 是一間非牟利機構,沒有承擔任何人、車、財物損失的責任。所有參加者必需自行承擔風險。
Submission dead-line for return of 'Reply Slip' is 30th June, 2017.
截止日期為2017年6月30日
~~~~~~~~~~~~~
2016香港電單車節的相關報導